Today's ⚾️ & 🥎 games have been moved to Woodland High School (previously scheduled @ Flanagan-Cornell). First pitch for both at 4:30! #LexGoPurp!

Minutemen Nation~ We encourage you to venture over to our website for some updates and NEW renderings on our "Investing In Our Future"-Master Facility Plan. On our district homepage, please scroll down to find this information located under "NEWS." #LEXGOMinutemen!

Tomorrow's Baseball & Softball games have been canceled.

Out of an abundance of caution, all extra-curricular events are canceled this afternoon. This includes the softball game @ Blue Ridge and all practices. Stay safe this afternoon and this evening.

April 2023 Lunch Menus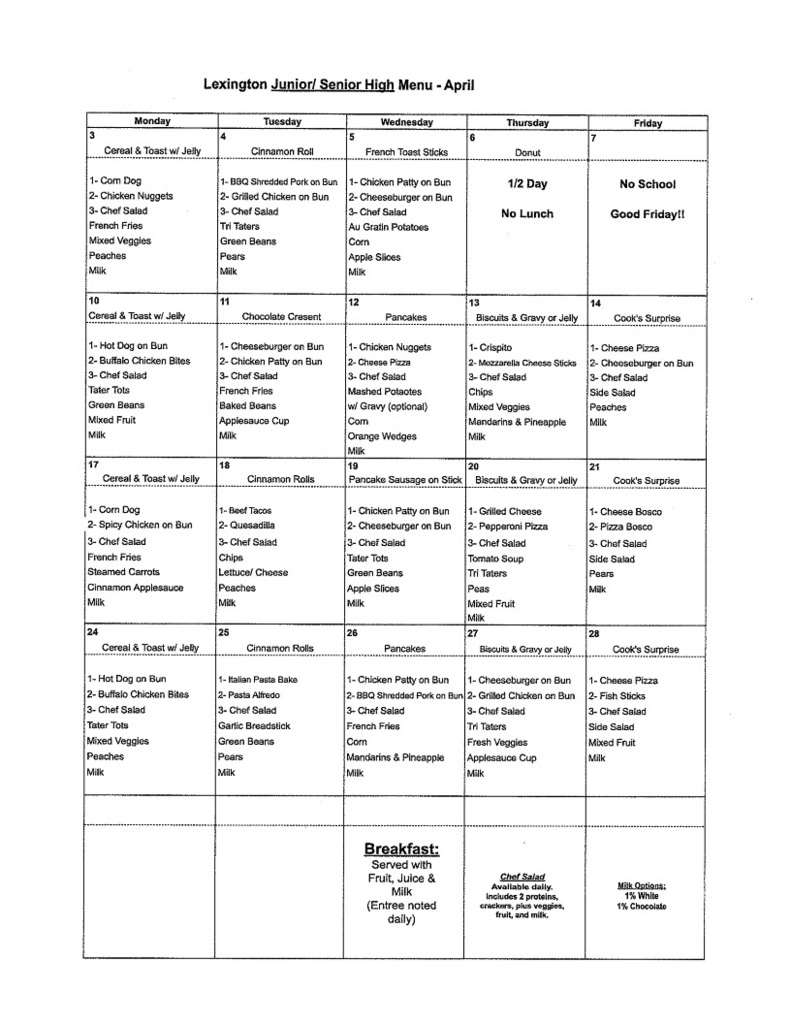 Tomorrow's Baseball doubleheader at Delavan has been cancelled. Makeup date TBD.

Tomorrow's (3/25) Softball (DH) vs. U-High has been rescheduled for Friday April 14 @ Keller Park (Lexington). First pitch at 4:30.

Today's JV baseball game vs. Dwight has been canceled due to field conditions.

Our friends and neighbors at Prairie Central are hurting and grieving today over a terrible loss in their school and community. In honor and memory of these students, we encourage our students, staff, and those in our community to wear the school colors of navy, Columbia blue, and white on Wednesday of this week. In addition, we ask Minutemen Nation to help our neighbors in their time of need by sending thoughts and prayers and performing random acts of kindness for the Prairie Central communities!

Missing High School Basketball already? Head over to Gibson City High School tonight for the "WGCY - HOIC vs. IPC - Girls & Boys Basketball All-Star Games" Girls Game at 5:00 PM Dunk Contest & Coaches recognized in between games Boys Game to follow Lexington High School will have several representatives participating in the game tonight!

Due to a scheduling error, the game vs. Seneca has been CANCELLED. It will not be made up on Monday (as previously stated) or later in the year.

Tomorrow's Varsity Baseball game vs. Clinton has been canceled. This game will NOT be made up.


Tomorrow's Softball game @ Lowpoint-Washburn has been canceled. This game will NOT be rescheduled for later in the year.


Today's Baseball & Softball games @ Marquette have been canceled (make-up date TBD?).
LHS Musical- Don't Miss It! This Friday, March 10th 7pm, Saturday, March 11th 7pm and Sunday, March 12th 4 pm.

Tough loss for the Minutemen tonight in the Sectional Championship, but there is nothing to hang our heads about. This group of young men have changed the trajectory of our athletic programs and the future looks bright! It's back to work on Monday for many of them as we move into the spring seasons! A big thanks to Minutemen Nation for showing up in Heyworth tonight; thanks for the loyal support!

Minutemen Nation: At this time (3:45 pm), the high school boys' sectional championship game is still set to be played tonight in Heyworth at 7:00 p.m. For those of you traveling to the game this evening, please give yourself plenty of time and be safe. LEXGO Minutemen!