Tomorrow's ⚾️ game vs. Delavan has been cancelled.

Todays 🥎 game at Delavan has been rescheduled for Saturday April 2nd @ 11 AM.

Today's ⚾️ game @ Prairie Central has been canceled due to wet field conditions.

Tomorrow's ⚾️ game vs. Seneca is cancelled. This game will not be rescheduled.

Tomorrow's Softball Game vs. Seneca has been cancelled due to a scheduling conflict. This game will not be rescheduled.

Lexington CUSD #7 invites the parents of next year's kindergarten students to join us for a parent orientation on Thursday, April 21st at 6:00 PM in the school library (enter at door #17). This meeting will be for adults only. If you cannot attend, please contact Abby Aupperle at (309) 365-2741 or email
aaupperle@lexington.k12.il.us
so we can get you the proper paperwork to begin registration for your child. This year we are adding a spring screening for each child to help determine the needs of the incoming class. Students who are currently enrolled in our PreK program will complete this screening during school. Students in the St. Paul Lutheran Church program will be screened by our staff on April 13th during their school day at St. Paul's. If your child does not participate in either of these PreK programs, please contact Abby in our office (number and email above) to schedule a date/time to have your child screened by one of our staff members. The assessment will take about 20 minutes to complete. Thank you!

Congratulations to Mr. Wiltz who was one of two recipients from area schools to receive scholarships at this morning's Ag Awareness Breakfast in Bloomington. The $1,000 scholarship is to support projects for Ag in the Classroom.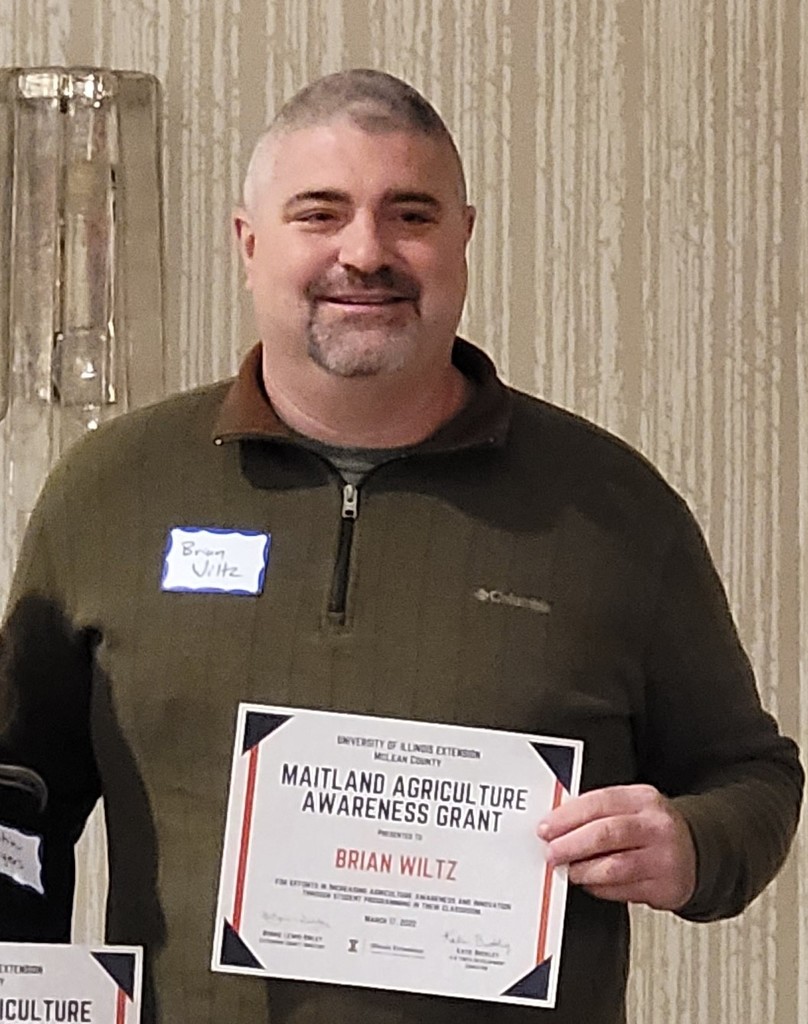 Lexington FFA members represented our chapter at this morning's McLean County Chamber of Commerce Ag Awareness Breakfast. Thank you to Tyler Atkins, Payton Wiltz, Klayton Botkin, Connor Feit, Jordan Reimer, and Tanner Laesch for waking up extra early to attend the event!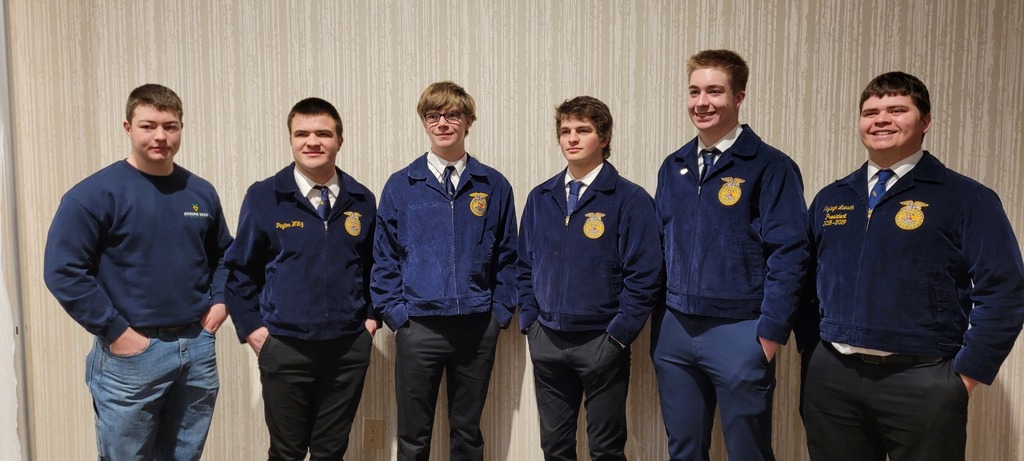 WGCY All-Star Basketball Games - Saturday, March 19 - 5pm & 7pm Watch the best of the HOIC and Illini Prairie Conference go head-to-head! Come cheer on Faith Keagle, Jayalia Therien, Carter Coffman, and Ben Peacock as they play in the 26th annual WGCY Senior All-Star basketball games this Saturday at GCMS High School. 5:00 pm – Girls Game 6:30 pm – Dunk Contest 7:00pm – Boys Game

Lexington is looking for an amazing foreign language teacher to join our family! If you are interested, or know someone who would be awesome in this role, please complete the application located under the Quick Link tab.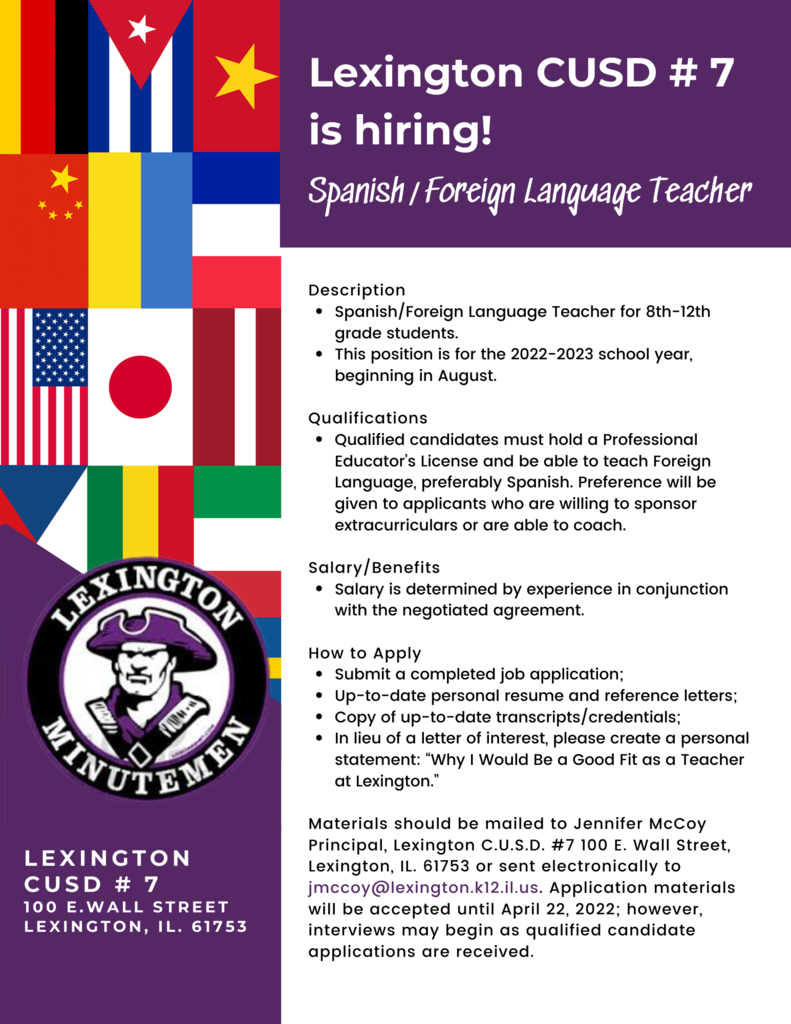 We are all looking forward to our spring concert that will be taking place tomorrow night starting at 7 PM in the High School gym. We can't wait to let the 5th-12th grade students showcase their progress with all of you. We ask that students dress in formal attire similar to that of the winter concert. In order to facilitate warm-ups and placement, students should arrive at the following times and places: HS Band @ 6:30 PM (Music Room) HS Choir @ 6:40 PM (Small Gym) JH Band @ 6:45 PM (Music Room) JH Choir @ 6:50 PM (Small Gym) Beginning Band @ 6:50 PM (Music Room) This concert is free and open to the public, so invite all your friends!

Congratulations to the Lexington math team on winning their regional and advancing the entire team to the State Finals for the 31st year in row! The team, coached by Rita Grunloh and Kyle Gogoel, will compete at the State Finals on Saturday April 30. The following teams and individuals earned awards: 1st Place Oral presentation (Logarithms)-Carter Coffman and Claire Peacock 1st place Geoemtry – Travis Stanfield 1st place Pre Calculus– Carter Coffman (new school record of 32 points – previously held by Elaine Croft (2000) 30 points) 2nd place Algebra 1- Nate Steffen 2nd place Geometry- Kyle Bradford 3rd place Geometry tie – Claire Peacock and Michael Olson 3rd place Algebra 2 tie – Reagan Haase and Issy Bennett 1st place Algebra 1 Team - (Nate Steffen, Cori Pearce, Hannah Heuer, Allison Epley, Grace Grimsley, Preston Wiltz) 1st Place Geometry Team – (Travis Stanfield, Claire Peacock, Michael Olson, Kyle Bradford, Cal Thomas) 1st place Pre Calculus Team – (Carter Coffman, Rachel Olson, Cole McCue, Emma Boyd, Ben Peacock) 1st place Calculator Team --(Carter Coffman, Issy Bennett, Wilson Pearce, Travis Stanfield, Cori Pearce) 2nd place Fresh-Soph 8 person Team (Travis Stanfield, Claire Peacock, Michael Olson, Kyle Bradford, Allison Epley, Cori Pearce, Hannah Heuer, Nate Steffen) Way to Go Minutemen! #LEXGO

Willy Wonka is coming to LHS this Friday and Saturday at 7 PM and Sunday at 4 PM. Tickets are $5 each, and we hope to see you there!

Lexington School District Developmental Screenings will be held on Monday, April 11th and Tuesday, April 12th at the Lexington Community Center for children ages 3, 4, and 5 years old. If you would like your child to be considered for the PreK program, he/she must be screened. Please call Lexington Elementary School at (309) 365-2741 to schedule your child's screening.

Lexington CUSD #7 Parents - Please join us for Love and Logic on Monday, March 14, 2022 at 5:30 PM. Love and Logic is all about helping you to raise kids that are self-confident and motivated. We will meet in the school library and will have sandwiches available for you. Babysitting will be available for children age 3 and up. Please RSVP to
wbachman@lexington.k12.il.us
l by Wednesday, March 9 with the number of adults attending the presentation as well as the number of children needing childcare. What Is Love and Logic All About? The Love and Logic Institute is dedicated to making parenting and teaching fun and rewarding, instead of stressful and chaotic. We provide practical tools and techniques that help adults achieve respectful, healthy relationships with their children. All of our work is based on psychologically sound parenting and teaching, whole-child philosophy called Love and Logic.

Big shoutout to Coach Gogoel and the Scholastic Bowl team who ended a very successful season tonight at Bishop McNamara, defeating Iroquois West & Tri-Point, and falling to Chicago Parker in the regional championship. They ended the regular season as HOIC Champions! #LexGoPurp

It wasn't the outcome we hoped for but we couldn't be more proud of the Varsity Boys 🏀 team and the coaches. Huge thanks to everyone who came out and supported the Minutemen in the Elite 8. #LexGoPurp

"Elite 8" t-shirts will be available in the Jr. / Sr. High Office after today's pep assembly. You can pickup your shirts in the office from 3:00-4:00. Any shirts not picked up that have been paid for, will be available at the game tonight near section 113 from Mr. Steidinger.